Yesterday I went to my best friends 21st birthday, in a very posh resteraunt in West London, Chiswick, over looking the Thames. She had beautiful flowers on her table [lillies and tulips], curled metallic ribbons, photo cubes of childhood photos... and the food was so posh. I had grilled squid with rocket, some special sauce stuff and fennel. and my main course was pheasent with celeric mash, cabbage and bacon. and the most amazing gravy. the cake was super posh. choco mouse, with marble choco on the side, honey comb blahblahblah. too good.
then i had to my dads house to visit my brother, as he had his 5th birthday party in the day.
I missed the cake that my lovely step mum made. but it looked like this: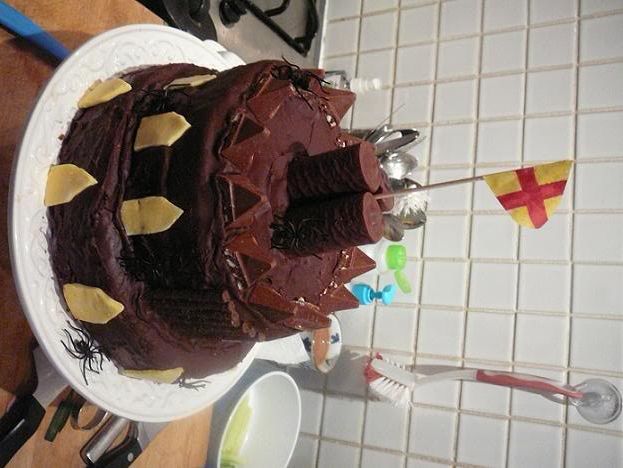 I had a two tier cake once that my mum made me, which was a carosel! it was amazing. i wil try and find photos of that too.
Also my boyfriend had his birthday a few weeks ago, when we were in Ireland. In two years he turns 30, and by then I should be a teacher, so I might actually have some money. This means I can buy him an old organ and decorate our place lots and lots.
anyway.
this post is going to be nice party decorations...
[p.s. ignore the fact that i have used stuff from all different themes!]
websites used:
http://loftparty.com/index.php
www.plumparty.com
My mum might buy me an ice cream ball for christmas. its a ball that you chuck about between friends...and i think you put a mix in with ice...and as you throw it.. it turns into ice cream. we also own lots of amazing ice cream bowls. big plastic colouful ones from HYPER-U [french supermarket]
Ice cream never tasted so good! Take your summer outings to a new level with this fantastic ice cream ball. It's lightweight and durable so toss around to your hearts delight! Just add rock salt and yummy ingredients (espresso anyone?) and in 20 minutes scoop out a pint of heaven....Recipes and instructions included
I would totally have these as party bags!!
(
Read more...
Collapse
)
I could go on forever. but I wont...